If Denmark is to realise its vast green hydrogen export potential, the Danish state must provide a guarantee of the cross-border hydrogen transmission pipe needed. That is the message from a united front of 14 companies and five interest organisations including STRING, who have produced a paper outlining five strategic recommendations on the financing of a west-Danish "backbone" by 2028.
A working group consisting of 14 Danish industrial actors and five interest organisations have produced five clear recommendations for the Danish government ahead of negotiations on the financing of Danish hydrogen infrastructure later this autumn. The recommendations, if followed, would enable a strategic financial investment in Denmark's hydrogen infrastructure, kickstarting an export adventure for wind-famous Denmark of up to 200TWh per year,  with exports to Germany reaching 16TWh by 2028 already equal to 4.5 GW electrolysis capacity, and rising to 10 GW capacity within just a few years.
Hydrogen infrastructure is a natural monopoly. With the agreement on the possibility of establishing a hydrogen infrastructure of May 2023, it was decided that the Danish hydrogen infrastructure must fundamentally be market-driven, publicly regulated, and managed by the publicly owned companies Evida (DSO) and Energinet (TSO). The two companies expect investments of 8 and 16 billion DKK respectively for a national hydrogen infrastructure with associated positive socio-economic gains towards 2060 of approx. 60 billion DKK.
A full realisation of the North Sea's energy potential, and associated expansion of the offshore wind capacity, depends on the development of Danish hydrogen production and infrastructure. If Denmark can combine climate, energy and industrial policy, as highlighted in the European Green Deal, the country will face a new green industry adventure.
The total Danish hydrogen export potential (incl. offshore hydrogen pipelines) in 2050 is estimated at almost 200 TWh (approx. 57 GW electrolysis capacity). This corresponds to a value of approx. 100 billion DKK annually, taking the energy consumption needed for direct electrification of Denmark into account. Already in 2030, the export potential for Germany alone is expected to reach 16 TWh (appx. 4.5 GW electrolysis capacity) corresponding to an annual DKK 8 billion.
CLIMATE AND BUSINESS OPPORTUNITIES OF A JUTLAND HYDROGEN BACKBONE BY 2028
The benefits of a strategic and market-driven investment decision in Q2 2024:
Denmark holds a unique position to supply EU-certified green hydrogen from 2027. Very few other countries have this option, as their national electricity supplies are "contaminated" by electricity produced from fossil sources.
Exploiting the RE potential and establishing national hydrogen production will strengthen Denmark's – and Northern Europe's – security of supply and price stability on the electricity market.
Early establishment of Danish infrastructure sends a strong investment signal to Danish and international investors in e.g. renewable energy and Power-to-X in Denmark.
Denmark is well equipped to help lift the European and global green objectives that we have committed to, such as: 1) the EU's target of 10 million tonnes of green hydrogen production in 2030, corresponding to approx. 95 GW electrolysis, 2) export to Germany, where a just-updated German hydrogen strategy outlines an up-adjusted import need for hydrogen of up to 90 TWh in 2030.
A Danish hydrogen industry will create green jobs outside the big cities in Denmark, and thus contribute to a balanced Denmark.
A Danish hydrogen infrastructure with cross-border connection and high demand, will allow Danish producers and consumers to connect to an activated market, resulting in risk reduction and better prices – and thus increased interest.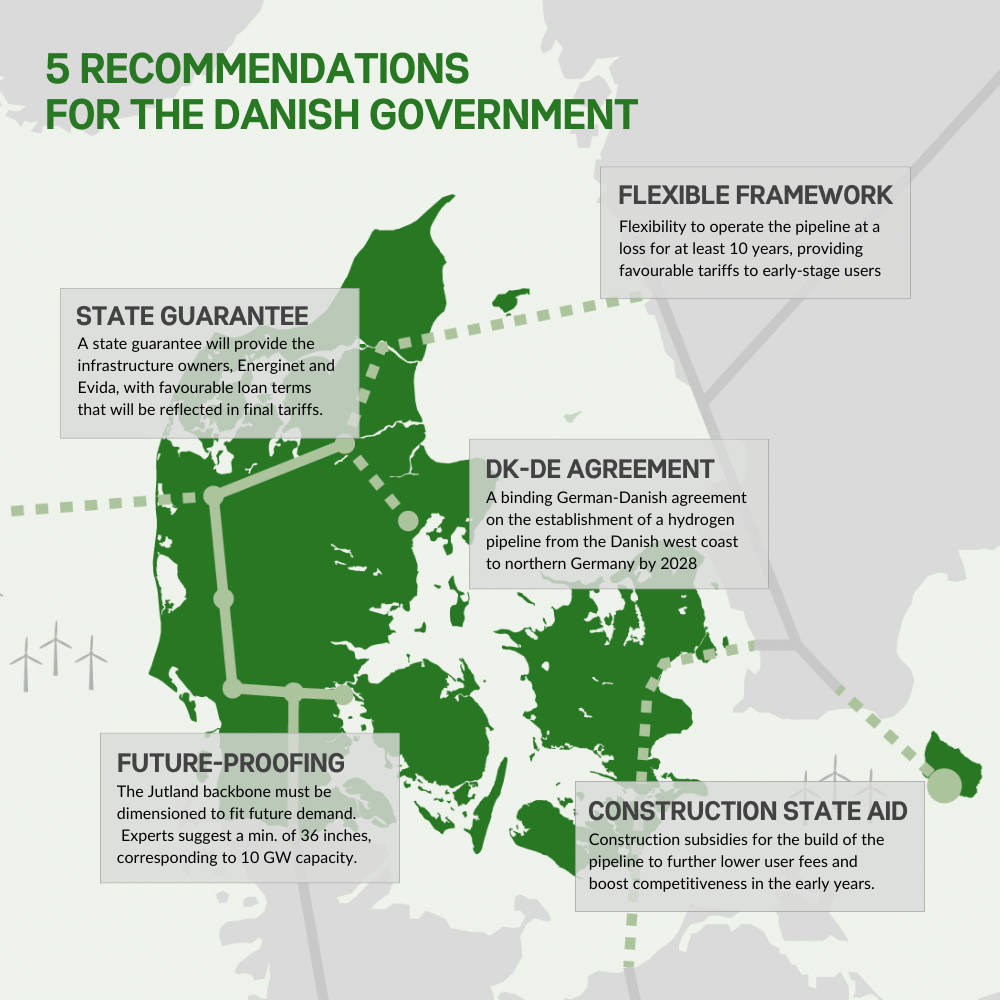 FIVE RECOMMENDATIONS FOR A STRATEGIC AND MARKET-DRIVEN INVESTMENT IN HYDROGEN INFRASTRUCTURE
I. STATE GUARANTEE OF A STRATEGIC AND MARKET-DRIVEN INVESTMENT DECISION
In connection with upcoming political negotiations on financing, a political agreement should be reached on a state guarantee that will enable the infrastructure owners to make a final investment decision (FID) on a "Jutland backbone" in Q2 2024, or no later than 1 month before the upcoming state North Sea offshore wind tender bidding deadline. Only this way can the objective of Danish hydrogen infrastructure connected to Germany in 2028 and 4-6 GW electrolysis capacity in 2030 be realised. The state guarantee will eenable favourable loan terms for the infrastructure owners, and  guarantee that any deficit is covered should long-term utilisation of the infrastructure be below expectations.
II. FLEXIBLE FINANCIAL FRAMEWORK CONDITIONS FOR INFRASTRUCTURE OWNERS
The upcoming agreement on the financing of a Danish hydrogen infrastructure should also include flexible financial framework conditions for the infrastructure owners in connection with the start-up phase of the hydrogen infrastructure. This is crucial to the infrastructure owners being able to defer payment and ensure a competitive start-up tariff. The infrastructure owners' revenue framework regulation must be made more flexible, to allow them to postpone the depreciation of the infrastructure, and thus a license to operate with a minimum coverage of 10 years for a start – a postponement that will catch up once the quantities of hydrogen increase. The flexibility will allow the infrastructure owners to create a tariff ceiling or fixed tariff for a minimum of 10 years for hydrogen transport in relation to the start-up of the Jutland backbone, and will thus lower the risk for early stage hydrogen producers and consumers.
III. STRENGTHENED DANISH-GERMAN AGREEMENT ON CROSS-BORDER HYDROGEN INFRASTRUCTURE
A political follow-up on the Memorandum of Understanding on hydrogen infrastructure from March 2023 between Denmark and Germany is necessary to ensure sufficient political support of a realisation of integrated German-Danish hydrogen infrastructure in 2028. Such a follow-up will have greater impact on the Danish side if a national agreement on FID in Q2 2024 for Danish hydrogen infrastructure has been decided beforehand.
IV. FUTURE-PROOF HYDROGEN INFRASTRUCTURE
The Jutland backbone transmission pipeline should be dimensioned to a minimum of 36″ in order to future-proof the infrastructure, corresponding to up to 10 GW of hydrogen capacity. The state guarantee will enable such over-dimensioning, whereby reducing the risk of a future need for double lines and any costs that may entail.
V. COMPETITIVE HYDROGEN TRANSPORT IN DENMARK VIA POSSIBLE STATE AID
Following the decision on state guarantees and flexible financial regulation, it is recommended that direct CAPEX support is explored as a means to increase Danish use of the hydrogen infrastructure and competitiveness in the hydrogen market, while the European hydrogen market is being established. This particularly seen in the light of CAPEX support schemes adopted in the Netherlands and Belgium, and supporting models that are currently being investigated in Germany. Possible means of financing include the Green Fund.